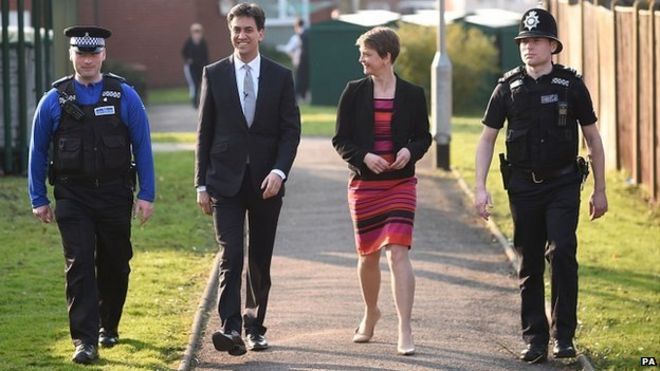 Labour is pledging to guarantee neighbourhood policing in every area - and protect the number of officers on the beat.
Labour says saving £800m over three years, such as by axing elected police and crime commissioners and by making police forces share back-office and procurement services, would allow forces to maintain front-line staff.
Conservatives say Labour has "wildly overestimated" the possible savings and that crime has fallen despite cuts.
A BBC News survey last month found that every force was preparing for budget cuts. The Association of Chief Police Officers warned last November that a further 20% cut in Home Office funding over the next parliament could see more than 34,000 police jobs, including 22,000 officers, disappear out of a total workforce of 205,000.The number of police officers in England and Wales has already fallen by 16,000 as a result of the first round of austerity cuts from a peak of 141,600 at the time of the last election to 125,400 a year.