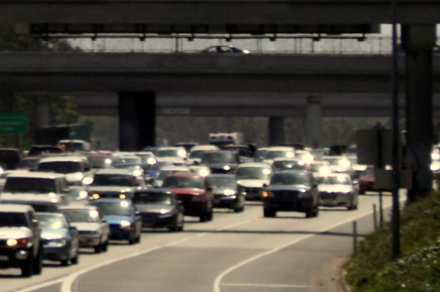 Maria Eagle MP, Labour's Environment Secretary, Sadiq Khan MP, Labour's Shadow Minister for London, and Barry Gardiner MP, Labour's Shadow Minister for the Natural Environment, launch Labour's campaign against air pollution.
Maria Eagle will says that 29,000 people die prematurely in the UK each year because of poor air pollution in our towns and cities - including more than 3,000 in London. Scientists have warned that air pollution in Britain's most polluted cities is stunting the development of children's lungs. Maria Eagle MP and Sadiq Khan MP will announce that the next Labour Government will deliver a national framework for Low Emission Zones to enable local authorities to encourage cleaner, greener, less-polluting vehicles to begin to tackle this problem.
Unlike this Tory-led Government the Labour Party will devolve the power, not just the responsibility, to Local Authorities willing take action against air pollution. The Government legislated in the Localism Act 2011 to force local authorities to pay large EU fines which are levied against the UK for missing European targets in their areas.
This Government's record on air pollution:
In December last year the Tory-led Government had to scrap its 'Local Air Quality Management' consultation because the evidence suggested that it would have made the problem worse and now they have no strategy.
The Government's approach to tackling air pollution has been described by the 'Healthy Air' campaign (whose members include the British Heart Foundation and Asthma UK) as 'designed to mask the true scale of England's air quality crisis rather than make any real attempt to solve it.' In July the London Assembly agreed a cross-party motion urging the Mayor to offer other London Boroughs the opportunity to opt-in to a larger Ultra Low Emission Zones.
Maria Eagle MP, Labour's Shadow Environment Secretary says
"Local Authorities in London and across the UK want to implement low emission zones but are being discouraged because there is no support from Number 10 or the Mayor. Labour will devolve the power, not just the responsibility, and support local authorities that want to tackle this public health crisis."
Sadiq Khan MP, Labour's Shadow London Minister will says
"The Mayor has no plan to tackle London's air pollution and his decision to delay and weaken the London low emission zone has made things worse. If nothing changes London's air will remain dangerously polluted for at least another 20 years and the health of thousands of children will be severely affected for the rest of their lives."